What was it really like in that stable? I am grateful to our own Retford Laureate for allowing me to share this with you all. Ed
The Hour of the Donkey
Out in the stable were shepherds and kings,
Mary and Joseph and angels with wings.
The cattle were lowing, a star shone bright
Over the stable on that Christmas night.
 
Back in a corner a donkey stood proud
Unable to sleep because of the crowd.
He'd carried the Virgin all the way there;
Now they ignored him; they just didn't care.
 
He shuffled his feet, gave one little bray
While they were intent on the babe in the hay.
The donkey, who wasn't a bit overawed,
Kicked out his hind leg and two kings were floored.
 
That got their attention. Oh what a sight!
The gold was all spilled, the donkey took fright.
He pushed past the shepherds and stepped on a sheep,
Colliding with Joseph, who was almost asleep.
 
One shepherd let slip a lamb that he'd brought
Thus freeing his hands so the donkey was caught
By the tail, while trying to flee the scene,
When a chuckle went up from the manger unseen.
 
The stable fell silent, you'd hear a pin drop.
The donkey poked his head over the top
And there in the manger he saw by starlight,
The Christ child was gurgling in purest delight.
 
The donkey stopped struggling; the shepherd let go;
The baby stopped laughing – they do that, you know.
The donkey said "Hee haw" and pricked his large ears
And the chuckles that followed had Mary in tears.
 
When Joseph said "Sleep now," the donkey lay down,
No longer disgruntled for he'd played the clown.
He'd brought his own gift to the Saviour's birth.
He'd brought the child laughter, the best gift on earth.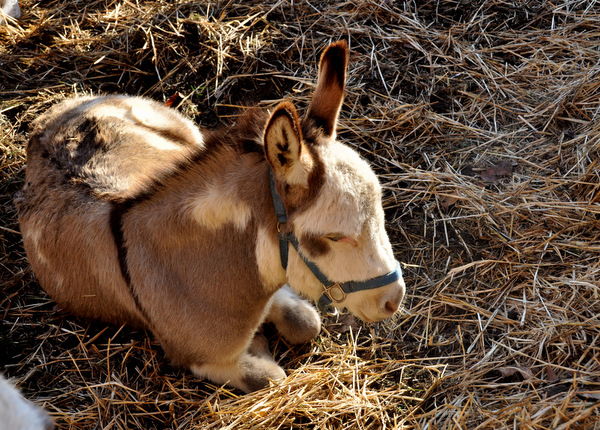 Picture from Stanthony.org – a Franciscan. St Francis is thought to have originated the crib.